LIME Mk2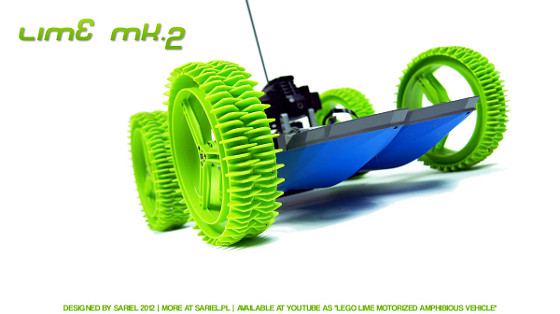 My first, very simple amphibious vehicle. Features a single propulsion system for land and water.
Datasheet:
Completion date: 22/04/2012
Power: electric (RC unit)
Dimensions: length 53 studs / width 52 studs / height 21 studs (not including antenna)
Weight: 1.709 kg (including camera)
Suspension: none
Propulsion: 4 x PF Medium motor geared 3:1
Motors: 4 x PF Medium
LEGO amphibious vehicles seem to be a challenge in the eyes of many, and I have been asked to build one more than once. It has been always my goal to make it as simple and as light as possible, because when it comes to letting things set out on a lake, I consider complexity and weight enemies of safety. The simplicity required a single propulsion system that would work on land and water alike, and I have eventually came up with one, using double Exo-force wheels, just like in my previous LIME vehicle.
The vehicle was build on two 51x12x6 floating hulls, which only have studs on top so I have added a simple studless central brace on their sides and bottom. Even with the brace, the whole construction was threatening to break in half. The propulsion consisted of four PF Medium motors geared down 3:1, because I expected each wheel to handle various stress when driving off the lake's bank and back; some wheels would be operating in water while others would already be on the ground. One solution was to make a 4×4 propulsion system with differentials, but I decided it would be too complex. The 3:1 gear ratio was a necessary compromise and didn't work very well. The vehicle lacked torque while driving and speed while sailing. A gearbox would be an ideal solution here, but again, it was too complex. In the end it turned out that I was right about keeping weight to minimum, because with the camera installed on board, one of the hull was on the very verge of sinking.
The entire construction was  designed for easy transportation, and each wheel could be easily detached together with the support which kept it away from the hull, minimizing the risk of splashing water on the hull. The whole vehicle was controlled by the RC unit to avoid problems with the IR link that would be inevitable with the Power Functions system. Skid steering was used on both land and water, with two left motors connected to RC unit's primary output and two right motors connected to RC unit's auxiliary output.
The vehicle was extremely simple and crude, but worked as intended, although with a very modest performance. Incidentally, its propulsion system proved to be completely litter-proof; the wheels have been able to clear the way out of any algae, sticks and other objects found near a lake's bank, and they practically eliminated the risk of the vehicle being stranded. I consider it a proof of concept rather than a proper MOC, but it was an interesting experience.
Photos:
Video: