Theo Jansen's Walker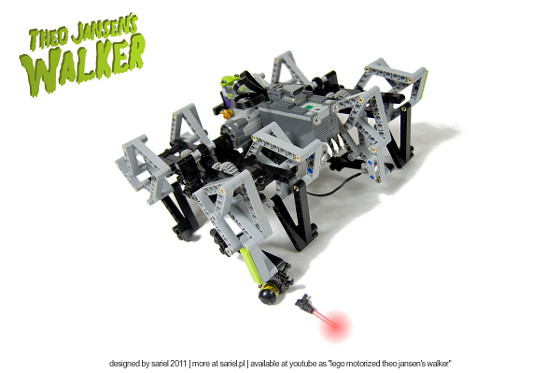 My third walking vehicle. Features 8 legs based on Theo Jansen's walking mechanism, driven by two motors.  
Datasheet:
Completion date: 31/08/2011
Power: electric (Power Functions)
Weight: 0.492 kg
Suspension: none
Propulsion: 2 x PF Medium motor geared 1:66:1
Motors: 2 x PF Medium
I wasn't satisfied with my previous walker which tried to adapt the Klann linkage, so I turned to something else: the Theo Jansen's mechanism. I started by studying a so-called kinetic horse which uses Jansen's linkage to move four legs. I recreated the linkage using 5 and 7 studs long liftarms, and I've been experimenting on a 4-legged walker for a while. I was trying to make it steered by articulation, but it proved to be unstable. I have then created two identical 4-legged units and connected them together. I wanted the whole walker to be steered by controlling four left and four right legs independently; I have been experimenting with a studless subtractor in the propulsion system, but it resulted in the walker being slow, large and clumsy.
Eventually, I settled for a lightweight body with two Medium motors controlled independently. I have shortened the legs, as longer legs needed longer chassis to maintain the same level of stability. I have also equipped them with rubber tips to improve traction on flat surfaces. The walker created this way turned out to be very efficient, agile and fast, even if very simple. I consider it my best walker up to date, but this is rather thanks to relying on Theo Jansen's work than on my own solutions.
Photos:
Video: