Crab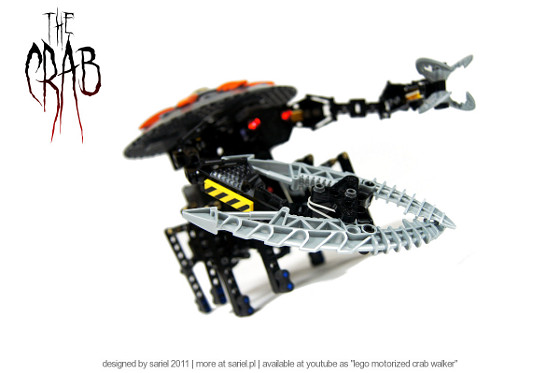 My second walking vehicle. Features 8 legs loosely based on the Klann linkage, driven by a single motor.  
Datasheet:
Completion date: 23/08/2011
Power: electric (Power Functions)
Weight: 0.495 kg
Suspension: none
Propulsion: 1 x RC motor geared 3:1
Motors: 1 x RC
My second walker, intended to use legs with spider-like pattern of movement. I have developed a chassis that used the Klann linkage to move legs, and it walked well and fast – however, it jammed every once in a while and the legs were too fragile to support even medium loads. I have then reworked the legs design to a form that loosely follows the principles of the Klann linage, but in a simplified way. The resulting chassis was small, sturdy and worked smoothly. I have been testing it with two separate motors for propulsion, each driving four legs on one side, which could allow the walker to turn like a tank. Unfortunately, the chassis steered poorly, and proved unstable as it was impossible to keep all legs properly synchronized with two independent propulsion motors.
Eventually, I settled for just one motor, but a fast one. I have also equipped the chassis with two long arms that could be fixed in various positions, thus affecting the walker's centre of gravity and its walking path. Under certain circumstances it could allow to make the walker turn, but much more often its movement was largely chaotic.
This was definitely not a successful walker, but still a funny build. It allowed me to observe how eight synchronized legs work when set at a number of various phases and angles. I think it wasn't a good MOC, but it was a good lesson that hopefully would allow me to properly realize the Klann linkage in the future.
Photos:
Video: