New book: Incredible LEGO Technic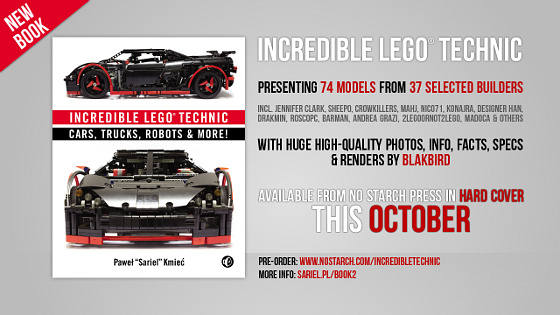 My new book collecting some of the world's best LEGO Technic models is now available.

Two years after the release of my first book comes a new one: Incredible LEGO® Technic. The hardcover edition is available directly from No Starch Press.
Update: the book is also available from Book Depository and Amazon.
Reviews (in English unless stated otherwise):
First of all, I should apologize for building really little this year – as it happens, when I was listing my plans for this year early in January, my intention was to spend entire year building. The work on this book started just a few weeks later, and has taken the bulk of my time over the last few months. I have been working very intensely, and it left me almost no time to build anything, which is why the first model from my 2014 plans wasn't ready until late June.
Second of all, I should explain that this isn't a sequel of my first book. The Unofficial LEGO® Technic Builder's Guide is at this point such an extensive book that any possible "sequel material" is simply insufficient to form a whole new book. Which doesn't mean that things may not change in the future, as LEGO keeps introducing new elements into the world of Technic.
Incredible LEGO® Technic is a result of a collective effort rather than a single author's work. My job was to select, gather, and then process the content, but I wouldn't have much content to work on without the many awesome builders who agreed to join this project. Some of them have even rebuilt their models and taken brand new photos just for its needs, and not a single of them said no when asked to join, despite usually being quite busy already. This tells a great deal about our community, and demonstrates how this community, made up of many individuals all of whom strive to better themselves, is all about not rivalry but respect and support. This is what makes this community special, and this community is what made this book possible. At the same time, this book would never happen without the enormous and priceless help of Blakbird.
The full list of builders is: 2LegoOrNot2Lego, Amida, andrea Grazi, Barman, Brunojj, Crowkillers, Designer Han, Dirk Klijn, Dmac, Drakmin, Edwin Korstanje, Efferman, Eric Trax, Francisco Hartley, Gyuta, Jennifer Clark, Jerac, Jurgen Kroopshoop, Klaupacius, Konajra, Lasse Deleuran, M_longer, Madoca, Mahj, Makorol, Marat, Nathanael Kuipers, Nico71, Oryx Chen, RoscoPC, Sariel, Senator Chinchilla, Sheepo, Spiderbrick, Splat, Thirdwigg, and ZED.
This book allowed something I have long wanted to happen – using my skills in graphic processing, and Blakbird's top-notch skills in rendering to present many models from many builders in the best way possible. Each of the 74 models shown in it comes with huge, colorful photos, information, facts and specs, and many of them are accompanied with awesome see-through renders. Each model also comes with a number of links, including video links where applicable, and – for 33 of these models – links to building instructions. Additionally, each of the 37 builders is presented in a separate section of the book, so you get to know more about the people behind these amazing creations.
Those of you who are hard-core Technic fans have probably seen at least some of the models included in the book – but there is still plenty of exclusive content for you. Some of the photos have not been published before, all renders are made specifically for the book, and every single picture was carefully prepared to look much better in print than it ever did on your screen. There's even a bonus: the last model ever built by Jennifer Clark, which has never been published before.
The ebook version of Incredible LEGO® Technic will be available a little later, to counter the piracy which has been a problem with the previous book. Given the nature of this book, full of big high-quality pictures and available in hardcover, I strongly recommend printed version over the electronic one – it can make a nice gift for anyone interested in LEGO.
The ultimate goal of this book is to show you all the amazing possibilities of the LEGO system, which include combining elements from various product lines. Technic is just one part of the LEGO family, and it can be built very differently from what the current Technic sets show. Incredible LEGO® Technic includes models that look nothing like Technic and push boundaries of the very definition of Technic, along with the models whose creators went great lengths to follow the style of the modern Technic sets. All in all, these many various great models weren't collected just to dazzle – I believe they can be a great source of inspiration to you.
Oh, and the last thing: it may include hamsters 😉