Tumbler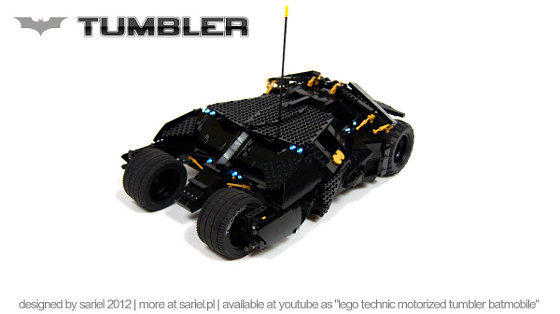 Model of the Batmobile from Chris Nolan's Batman universe. Features full suspension, realistic steering, jet engine effect and remotely fired front cannons.
Datasheet:
Completion date: 30/11/2012
Power: electric (RC unit / battery box)
Dimensions: length 56 studs / width 34 studs / height 19 studs (not including antennae)
Weight: 2.344 kg
Suspension: front – full independent / rear – live axle
Propulsion: 2 x RC motor geared 3:1
Motors: 2 x RC motor, 1 x PF Medium
"- What's that? 
– The Tumbler? Oh, you wouldn't be interested in that."
This sentence from the Batman Begins reboot has introduced one of the most amazing and authentic purpose-built vehicles ever featured in movies. Back in 2005, when Christopher Nolan was a fresh, aspiring director, he went great lengths to make sure his batmobile is unlike any other.
What you ought to know, is that the car and stunts are all real, no CGI involved. So is the sound of this monster, as you can see from this video:
The entire vehicle was built for the movie from a scratch, as several slightly different units, each costing over 1.7 million dollars. The first prototype took six months to develop, and much of this time was spent pushing a 2.5-tons heavy monster with a 500 HP engine to its limits. That included jumps – the chassis was being improved for months, until it could handle a 12-meters long jump without any damage. The top speed exceeds 170 km/h, and part of the movie's police chase sequence was filmed at this speed. As a matter of fact, the Mercedes-Benz ML55 AMG cars used as camera carriers had struggled to keep up with the Tumbler – so much, that the following Batman movies made use of supercharged ML55s instead. For me, in comparison to overstyled, ridiculously unreal batmobiles from the old Batman movies, the Tumbler was a revelation.
The model was an enormous challenge – I was actually trying to build it ever since the movie was released. The biggest problem always was the front suspension, which I wanted to work exactly like in the real vehicle. I believe the front suspension actually took some 95% of the time spent on this model. The difficult of the task was that it required to mount suspension of a thin protruding arm, which will be strong enough to keep wheels straight, which will support the large and heavy model as it drives, which will provide a decent turning radius, and which will stay together when it meets and obstacle. This literally took years to work out.
The whole front part of the chassis was very heavily reinforced. The suspension arms were built around 16-studs long Technic bricks, turned upside-down to allow some suspension components below. The arms were reinforced at many points, and connected to a massive front of the chassis at no less than 5 various points. Only this kind of structure was rigid enough to prevent any bending and to keep wheels straight at all times. The model's frame was extremely complex itself, with the RC unit in the middle, two RC motors used as part of the bearing structure, and a scaffolding of axles and connectors to support the tapering sides of the hull's middle section.
Steering the front wheels was another matter – they could not be connected in any simple way, e.g. with a rack, and any more complex connecting mechanism created backlash sufficient to misalign left and right wheel. In the end, I found a solution that did not eliminate the backlash, but evened it out between the wheels. It made use of universal joints and a simple beam with levers, connected to the RC unit's steering output. This way, the Tumbler was as easy to steer as any standard RC model.
The propulsion system consisted of two RC motors geared down 1:3 and coupled through an adder, and the drive was transferred to the rear axle's differential through a ball joint. At the back of the rear axle, there was a mock-up of a jet engine, with a flame rotating as the model drives, and lit up by a single LEGO LED that lights up when the drive motors work. This was not only the recreation of the real vehicle's jet engine, but also a tribute to the LEGO 7784 Batmobile UCS set, which was a great influence in non-Technic building for me.
In front, there were two LEGO spring cannons, triggered remotely by a PF Medium motor connected to the RC unit's auxiliary output. The motor was located on the left side of the hull, while the right side housed small LEGO Trains battery box powering all the LED lights.
As for the look of the model, I've spent over a month on the bodywork, and it led me to believe that Chris Nolan secretly hates model builders and created Tumbler so as to make them hate themselves. Except for a part of the roof, the body does not include any typical shapes or angles, but instead consists mainly of a wide variation of triangles set at very various angles. Many parts and surfaces are inclined at two planes at once, and some are inclined at three – for example the middle pair of flaps. Such a body was extremely difficult to model and to maintain all proportions, and the task wasn't made any easier by the lack of an official blueprints and by small differences in the fan-made ones. I was relying, among others, on the official Batmobiles book, but that wasn't as much help as it could be either.
Early when working on the bodywork, I have come across the question of the studs. It was impossible to make the body with studless pieces and have all the details I wanted to include, so the use of studfull pieces was necessary. As large part of the body was made of plates, I have extensively used wedge plates and wing plates, which for reasons unknown are produced in a studded variant only, and not as tiles. Eventually, I decided to leave the studs uncovered, as adding tiles on top of them would make the body surfaces look thick, and create serrated edges on all wedges and wings. Only the front of the model was covered in plates, mainly to match the appearance of the studless "windshields" and also because its edges were concealed and did not look thicker with tiles added. I have actually made deliberate use of studs in several places, for example on flaps, to show their aerodynamic profile. I have also used smooth Technic panels wherever possible. Many surfaces took an enormous amount of work to be properly positioned and held in that position – I was using connectors with ball joints and small turntables mounted on hinge bricks on regular basis.
The model's look wasn't perfect, but I know it was my best shot, and on the aesthetic side it was the most difficult thing I have built up to date. At the same time, it was working very well, with great acceleration and decent speed, flawlessly working cannons and a soft suspension that made the body float in a realistic way. As a matter of fact, combination of the powerful propulsion and the soft independent suspension made it possible to roll the body to the point where areas near the rear wheels started disintegrating – as the video below shows.
All in all, I was happy with how I handled this exceptional challenge, while I still think that the same vehicle can be modeled very differently, and possibly better.
Work in progress photos:
Photos:
Video:
Media coverage:
8studs (Polish), Auto Chunk,  Brick Heroes (French), Esto Apesta (Spanish), Feber (Swedish), GadgetBlog (Italian), Games Pro (German), Gaming Gadgets (German),  Gizmodo, Kotaku, Klocki (Polish), Le Journal du Geek (French), Nerd Approved,  Nerdgasmo (Spanish), NerdPix (French), Nerdzonfire (German), Technabob,  The LEGO Car Blog, Top Gear