My tools now available as Android apps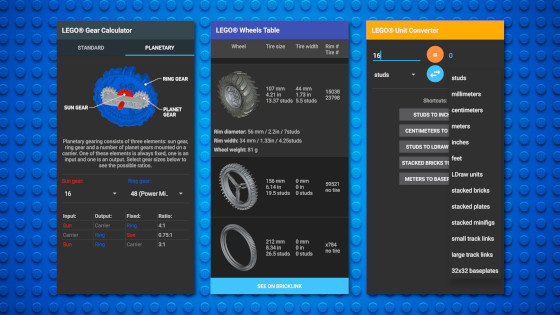 Some of my tools for LEGO builders available at tools.sariel.pl are now coming to Android as free apps.

In my plans for this year, I have promised to bring some of the tools I've published at tools.sariel.pl to smartphones. I'm happy to report that this is finally happening with four apps coming to Android 4.4 and higher for free and without ads:
I have plans to keep these apps up-to-date and functional, especially the Gear Calculator app which already has a standard and planetary calculator in it. I intend to bring my Gear Coupler function from gears.sariel.pl to this app, too, and then perhaps add some encyclopedia of LEGO gears.
I don't have any plans for developing these apps for iOS. The reason is simple: Android currently has estimated 87% of the smartphone market worldwide and the apps for it can be developed on anything. iOS has estimated 12% and it requires a Macbook to develop apps. Buying a Macbook is not an option for me, my means are already limited enough.
Video: