Ford Mustang GT 350-H printed instructions book on sale now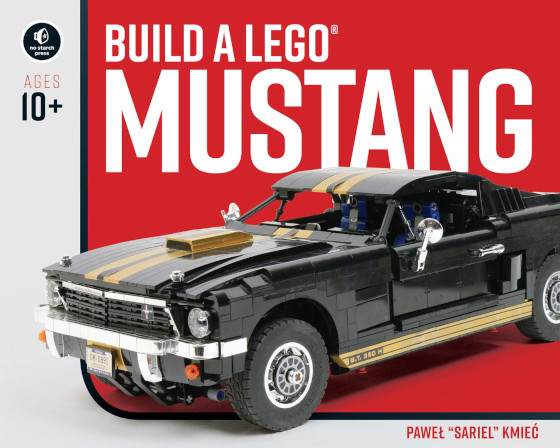 No Starch Press has just released the printed instructions book for my RC Ford Mustang GT 350-H model, and you can download the parts list for free.

I have created complete building instructions for my Ford Mustang GT 350-H model.  The instructions are available as a printed book only (no e-book version due to problems with piracy with the previous books, so thank the pirates for that) and can be bought from No Starch Press or Amazon, and here you can download a complete parts list.
Buy the instructions book from No Starch Press »
Buy the instructions book from Amazon »
Download the free parts list »
The model can be built in black with yellow stripes or – as shown in the instructions – in red with white stripes. Other colors combinations are certainly possible. The model is designed for remote control with Power Functions using standard 6AA battery box, standard IR receiver and standard IR remote.
The building instructions include:
– visual parts list
– textual parts list
– step-by-step building instructions
– detailed diagrams of all connections between the Power Functions elements
– original car's historical background
QUESTIONS AND ANSWERS:
– Does the price cover just the instructions book or also the LEGO pieces?
It's just the instructions book. You'll have to buy the pieces separately.
– Why can't the instructions be free?
The instructions have taken about a year to make and involved me and several persons from No Starch Press, all of it to ensure that you get a quality product. Sadly, none of us can afford to work this long for free..
– Can I share the instructions book?
It's OK to show the book to a friend on two, but it's not OK to copy it and post it online. Keep in mind that this is a copyrighted book from an established publisher, and this publisher has their own legal department who may come after you if you breach the copyright (which you do by copying the book without authorization).
– How much does it cost to build this model?
That depends on the colors you choose for the body and on what parts you already own . I suggest downloading the complete parts list and seeing what you're going to need.
– How different/harder is it to build this model compared to LEGO sets?
It's quite different because it blends Technic functions with System exterior. The difficulty is higher than with sets, too – some building techniques can be challenging and some parts are fragile. The resulting model is more fragile than official LEGO sets, but it will also teach you advanced building techniques that you'll never see in a LEGO set.
– Can I modify your model?
It's LEGO, so certainly, you can modify it and improve it as you see fit. It would be nice, though, if you didn't claim authorship of the whole model just because you've just it a little.