RC Renault FT-17 model instructions now on sale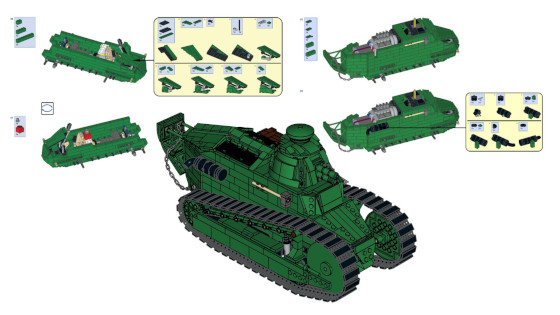 Complete step-by-step building instructions for my Renault FT-17 RC model are now on sale.

I have created complete building instructions for my Renault FT-17 RC model.  The instructions can be bought from Rebrickable for 15 EU, and there is also a free sample and a complete parts list available.
Buy the instructions from Rebrickable »
The model can be built in green or light bluish gray. It is designed to be powered using the LEGO 8878 rechargeable battery and controlled remotely using SBrick, but it can alternatively use the 88000 AAA battery box instead. With some modding, it should be possible to use BuWizz for power & remote control and replate the Micromotor with a PF M motor (if you remove the seat).
The building instructions include:
– visual parts list
– textual parts list
– step-by-step building instructions
– sticker sheet for you to print (in green, light bluish gray and transparent colors)
– SBrick set-up instructions including PlayStation 4 gaming pad set-up instructions
QUESTIONS AND ANSWERS:
– It's 15 EU for instructions and LEGO pieces?
No, it's 15 EU just for instructions. You can't buy 1,500 pieces including 4 motors for 15 EU.
– Why can't the instructions be free?
Because they have taken several weeks to make and I simply can't afford to work this long for free. I have bills to pay and I don't even earn all of that 15 EU – Rebrickable and Paypal fees take part of it.
– How much does it cost to build this model?
A lot if you build it with motors and in green, much less if you build it in light bluish gray or without motors. The exact cost depends on what pieces you already have, where do you live, what are the shipping costs in your area and where you buy from.
– How safe is paying for your instructions and what do I need to do it?
The payment is done via PayPal so it's pretty safe and all you need is a credit or debit card. Rebrickable should deliver the instructions as soon as the payment is processed.
– Can I share these instructions?
I kindly ask you not to. The whole idea here is to see what happens if I sell instructions – if what happens is piracy, stealing, reselling and such, I simply won't be making any other instructions in the future.
– How different/harder is it to build this model compared to LEGO sets?
It's quite different because it blends Technic functions with System exterior. The difficulty is higher than with sets, too – some building techniques can be challenging and some parts are fragile. I've done my best to make the instructions as clear as possible and you can check the free sample to see what they look like.
– Can I modify your model?
It's LEGO, so certainly, you can modify it and improve it as you see fit. It would be nice, though, if you didn't claim authorship of the whole model when you've just altered it a little.