Imperial Ankle Destroyer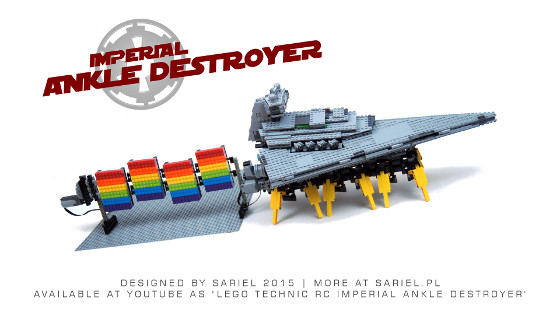 My modification of the LEGO 75055 Imperial Star Destroyer set: a walking Star Destroyer with a Nyan Cat-like moving tail.
Datasheet:
Completion date: 10/05/2015
Power: electric (Power Functions)
Dimensions: length 70 studs (not including the tail) / width 37 studs / height 33 studs
Weight: 2.19 kg
Suspension: none
Propulsion: 2 x PF L motor
Motors: 2 x PF L motor, 1 x PF M motor
It's difficult to explain the idea behind this creation, but I'll try. A while ago I was filming a review of the LEGO 75055 Imperial Star Destroyer set and I happened to have the 8-legged chassis I used with my Walking Mini Cooper lying around. So, simply for the so-called sh*ts and giggles, I put the Destroyer on top of it and filmed it walking. With plenty of weight on just 8 legs it was barely moving and the video showed it swaying for most of the time, and lasted under 30 seconds. Yet when posted at my Facebook page, it went viral and has almost instantly become my most popular Facebook video ever. So, with my Kaneda's bike from AKIRA finally complete, I decided to try to transform it into a proper MOC.
First of all, I added four more legs for extra stability. With a total of 12 legs, the entire contraption walked much better, but still the massive weight – or, more precisely, the distribution of it (almost all weight in the back) – made the chassis start coming apart after roughly 1 minute of walking. For this very reason – weight – I was forced to abandon my plans to spice the ship up a little by motorizing the turrets on both sides and adding LEDs in the rear engines and perhaps a remotely controlled trigger mechanism for the spring shooters. All of this has to be given up because even empty ship's weight was challenging enough.
As something like an extra accessory, I've built a mechanism simulating the animated tail of the popular Nyan Cat, using four blocks of bricks mounted on a linkage driven by a single PF M motor. It worked as intended, although it was rather heavy and adding more than four moving blocks would inevitably require one or more extra support in the middle. I like to think that somewhere out there, a Bricklink seller is still recovering from shock after I, a die-hard Technic customer, ordered a bag of rainbow-colored basic Lego pieces.
In the end, this entire creation was built for amusement only and it had no real value outside the fun factor. But after all, how are you supposed to come to the Dark Side if you have no legs?
Photos:
Video: