Crawler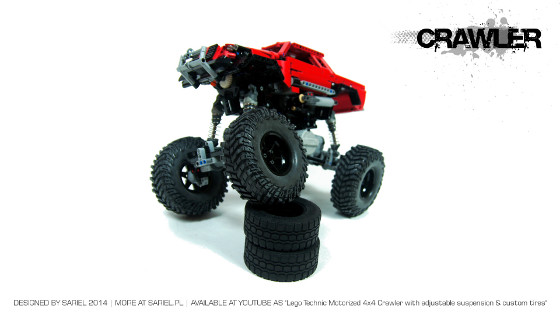 My first proper crawler built to test custom tires and adjustable Lego shock absorbers. Features 4x4x4 drive and steering, full suspension, 2 steering modes, and adjustable ground clearance.
Datasheet:
Completion date: 10/12/2014
Power: electric (Power Functions)
Dimensions: length 46 studs / width 27 studs / height 33 studs
Weight: 1.933 kg
Suspension: live axles
Propulsion: 2 x PF XL motor geared 7:1
Motors: 2 x PF XL, 2 x PF M, 2 x PF Servo
For a while now I've been testing custom tires. It has been discovered by someone that most tires for RC cars in 1.9″ standard fit Lego 56mm rims quite well. In this particular case, I wanted to test Baja Claw TTC tires by RC4WD, which are enormous, rather soft and very, very grippy. At the same time, I used this opportunity to test Lego 11.5L adjustable shock absorbers which I only acquired recently.
The chassis was typical for a crawler, with two live axles connected to the body by power joints and 9L links. The configuration looked pretty much like inverted version of the Lego 9398 Crawler, with two propulsion motors sitting in the middle of the chassis and one steering motor integrated into each axle. The two Servo motors were coupled, but the rear one was connected to a switch which could be switched remotely by a PF M motor. This allowed two steering modes: regular and crab steering, changed remotely on the fly, and since the switch was easy to access, it could be switched off manually, disabling the rear axle's steering and making the model steer like a regular car.
The shock absorbers were easy to access for adjustments. The adjusting was easy enough, but had to be done manually and on each absorber separately. The difference in hardness after changing it was huge, but the problem with the 11.5L shocks is that they have only soft and hard setting, with nothing in between. The upper ends of all absorbers were connected to levers held at angle by three large linear actuators. All three actuators were synchronized and controlled by another PF M motor, thus allowing to change the ground clearance remotely. The difference in clearance wasn't big, just under 4 studs, and the entire mechanism made the chassis taller, so the adjustment worked actually between tall/very tall positions.
Choosing the body was a long process. Initially, I got inspired by the recent Mad Max 4 trailers to use a Volkswagen Bug body, which would look cool with the enormous wheels. However, upon seeing some Technic-styled Volkswagen Bugs I decide I can't make it look well enough. I have then tried to install the body of the Lego 10242 Mini Cooper set on top of the chassis, and it looked great but turned out very top-heavy and wobbly. Eventually, I settled on a simple generic pickup truck body that was lighter than the Mini Cooper and could be installed lower on the chassis. The winch in front was fake, added only for the looks – in fact, the only space where it could be installed was taken by the steering modes switch.
I did not expect superb performance from the model, given its tall silhouette and the presence of differentials, which proved necessary, and the fact that the giant wheels exerted enough stress on the drivetrain to bend one u-joint in half during tests. When tested outdoors, though, it actually surprised me. It was stabler than I anticipated, the traction provided by tires was far superior to that of any Lego wheels, the suspension worked correctly (although clearly it would work better under heavier body) and the drivetrain proved trouble-free and unstoppable. Not a sinle piece got damaged, and no mechanical failures occurred. When tested indoors, the V2 receiver sometimes cut the power off from the two PF XL motors when under a lot of strain. Outdoors, when driving at -3ºC (26.6 ºF), this effect did not appear. The power supply, which relied on rechargeable AA Eneloop batteries, seemed unaffected by the temperature (I can't say the same about my camera's battery). The decision to put IR receivers on the sides of the body proved surprisingly good, too – I was able to drive comfortably outdoors by standing next to the model instead of following it.
All in all, while this model wasn't particularly pretty nor innovative, I feel it met its goals. It performed quite well in difficult conditions and turned out to be a sound test bed for the tires as well as the shocks.
Work in progress photos:
Photos:
Video:
Media reference: