Roman Ballista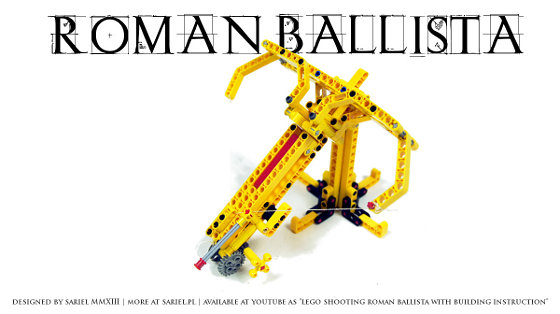 A simple working model of a ratchet-equipped variant of a Roman ballista.  Instruction available.
Datasheet:
Completion date: 13/07/2013
Power: wind-up crank
Weight: 140 g
Roman ballista is an iconic historical weapon, and an excellent specimen of the ancient engineering. Invented by ancient Greeks and then perfected by Romans, it has seen use in many centuries and many variants, including wheeled, horse-drawn ones. Roman ballistas, made of wood and metal, and later only from metal, have been extremely versatile: the same kind of weapon could be as huge as to be used as a siege weapon or installed on a warship, and as small as to be operated by a single soldier and used as a sniper weapon, picking up individual targets. It was a standard weapon of the Roman army, and have been crucial to, among others, Caesar's first landing in Britain.
I wanted to build a working ballista for a while, toying with various approaches. Eventually, I decided to make it as simple and as robust as possible, using only basic studless pieces so it could be easily built. The model consisted of the actual ballista and a stand, which could be quickly separated. I have spent some time experimenting with a worm gear in the winch, and with a trigger mechanism separating the drawstring from the firing bolt, as seen in early ballistas, but in the end I decided on the drawstring connected to the firing bolt permanently, and on a simple ratcher acting as a trigger, just like in my model of the Da Vinci's leaf spring catapult. It was a simple, realistic, and convenient solution, allowing high rate of fire.
The model was tested with a variety of projectiles. I was interested in range and accuracy over firepower – which is a direction the real ballistas followed – and with this in mind, I have achieved best results when firing 7 studs long beams. Longer or shorter projectiles are also possible, and they affect range and firepower accordingly.
Free building instruction for the model is available in the Downloads section.
Photos:
Video: