GG Quad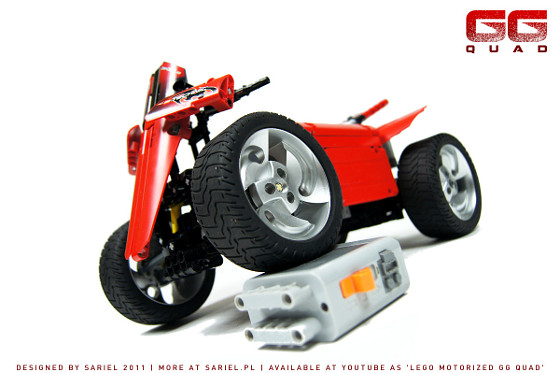 Model of a GG Quad. Features full suspension, return-to-center steering system and a powerful propulsion system.  
Datasheet:
Completion date: 15/05/2011
Power: electric (Power Functions)
Dimensions: length 34 studs / width 22 studs / height 20 studs
Weight: 0.895 kg
Suspension: front: independent / rear: dragged axle
Propulsion: 2 x RC motor, direct drive
Top speed: 9.6 kmph
Motors: 2 x RC, 1 x PF Medium
My first model which turned out so fast that I was unable to film it inside my apartment. Original GG Quad is a quad/sport car hybrid, a vehicle that's useless off-road but extremely fast on road. It's faster that most of the cars or bikes, because it weights less than a car and it's more stable than a bike, without the need to slow down around corners. There is also a newer, more powerful version called GG Quadster, but it appeared ugly to me.
Technically, the model is pretty much a copy of my Scania racing truck, with a few changes. These include a return-to-center steering system (created by simply using this piece), a direct drive, that is no gearing used on the rear axle, and a fully studless, lighter body frame. Just like the Scania, it has an independent front suspension and a dragged rear axle, with two coupled RC motors used to connect the rear axle to the chassis. The motors are powered from separate batteries and through separate IR receivers due to their extremely high power consumption, so the model has in fact two independent power supplies and control systems, with motors being only coupled physically by the rear axle.
Aesthetically, I was trying to make the model as light as possible without compromising its look too much. It was clear from the beginning that a model with roughly one third of the chassis occupied by batteries alone can't be made very authentic, but I've been trying to find an acceptable compromise. The weight of the bodywork is around 150 grams, so it constitutes a small part of the model's total weight. It was also necessary to make model as robust as possible, given its speed and the fact that I was forced to drive it outdoors.
The model certainly has two disadvantages: the front wheels tend to fall off, and the handlebars are fixed. The problem with the front wheels is that I used simple axle pins to hold them in place, and it worked well until the axle pins started to wear out. They were brand new at the beginning, and they looked really shabby in the end. The problem with the handlebars is that making it turn with the front wheels would result in increased weight and complexity, with the latter making the model less robust.
The model was fun to play with, and the fact that it wasn't much faster than my Scania despite being 50% lighter shows that I haven't used the full potential of the RC motors. I suppose that the next step is to use a gearbox that would allow to switch between RC motor's slower and faster output remotely. Experimenting with various wheel sizes could also give some interesting results.
Photos:
Video: