Rocking Compressor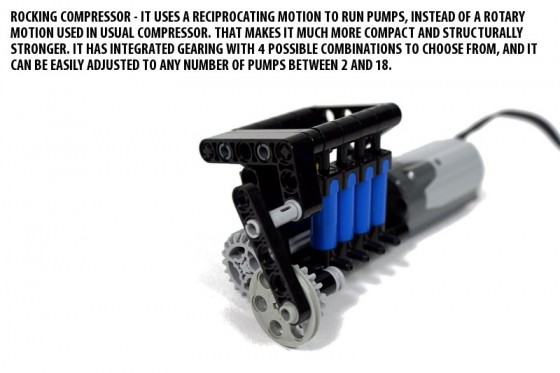 New compressor design, using reciprocating motion instead of a rotary one. Smaller, stronger and more adjustable than traditional compressors, it can run up to 18 pumps.
I have presented some ideas for compressors earlier – they used at least two sets of alternatingly working pumps to keep the airflow fluent and the vibrations minimal. The problem, however, was that they all used a rotary motion to run the pumps, which made them large and structurally weak (e.g. because no central axle could be used to run the pumps, there had to be an empty space for the pumps to move). Both these problems increase rapidly with the growing number of pumps.
Having recently bought an extra supply of pumps, I was looking for a solution that would result in a compact and strong compressor. I have found it by replacing the traditional rotary motion by a reciprocating one. The compressor I've developed can use any even number of pumps between 2 and 18 (this limits results from the 12-studs long axle being the longest one we can use to put the pumps on), while being much smaller and stronger that the traditional ones. It can work with any motor, and has integrated gearing that can be adjusted to your needs by picking one of 4 available combinations. The only tradeoff is the fact that it generates more vibrations that the rotary compressors, but it still makes it a useful alternative. Even with 18 pumps, this compressor is only 14 studs long (not including the motor). The exemplary variant I've built for the video uses 8 pumps and its dimensions are just 9x6x7 studs (again, not including the motor).
You can find a complete instruction below, and the video is pretty explanatory. While many people tend to choose large compressor based on RC motors for large models, I dislike this solution because RC motors are noisy and difficult to use with the Power Functions system (they run at a current so high that it makes the battery boxes and batteries go off). Therefore for me, this solution will be a much better alternative in the future.
Photos:
Video: