Now Blogging Officially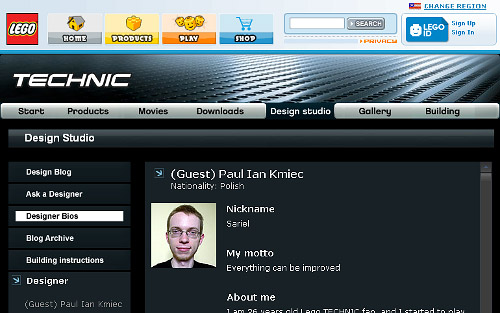 The official Lego TECHNIC blog called Design Studio has just invited three guest bloggers selected from the AFOLs from around the world. I happen to be one of them.
Just like most of the product lines, Lego TECHNIC has its official website. The website is well expanded, includes multiple sections, and one of them is the Design Studio. Design Studio is basically a blog where Lego designers and representatives unveil the curious details of working inside the Lego company, of the sets designing process, etc. They also answer fans' questions thanks to the Ask A Designer subsection.
Recently the company decided to introduce some changes to the Design Studio. One of these changes is inviting three AFOLs from around the world to join as guest bloggers. The lucky three are: Fernando AKA Conchas (chief editor of the famous TechnicBRICKs), Eric AKA Blakbird (creator of the great Technicopedia) and me.
We will be only guests of the company, not its employees in any way whatsoever. And it doesn't mean we can suggest new sets or parts to the company – we're there to simply write on certain subjects that the company considers worth mentioning. So it is of course a great and exciting initiative, but it doesn't make us equal to the designers. Each of us will post one entry every couple of weeks, so it should not interfere with our other activities.  My first entry will follow shortly, and here you can see my bio at the Design Studio. You can also read a more explanatory post written by Conchas at the TechnicBRICKS. I'm sure we'll have a lot of fun writing for Lego, and I hope it will do some good to the community.