Classic US Truck RC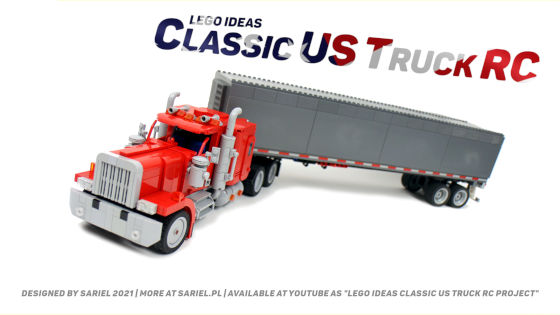 My another LEGO Ideas project. Features remotely controlled drive and steering with a working steering wheel, opening doors and hood and a trailer with opening doors and parking outriggers.
Datasheet:
Completion date: 06/04/2021
Power: electric (Control+)
Remote control: Control+
Dimensions: truck – length 42 studs / width 13 studs / height 16 studs, trailer – length 65 studs / width 13 studs / height 20 studs
Weight: truck – 1.001 kg, trailer – 0.855 kg
Suspension: none
Propulsion: 1 x Control+ L motor
Motors: 2 x Control+ L motor
You can vote for this project at LEGO Ideas here: https://ideas.lego.com/projects/73fc6d39-20c6-4f9f-9473-c6ed35396d09
Another LEGO Ideas project, this time featuring a semi-truck with a trailer built at nearly LEGO minifig scale. The project was born in a somehow convoluted way, which can be explained as follows:
the 421090 and 4214 sets appear to suggest that LEGO is inclined to keep a simple entry-level RC vehicle available in the Technic line at all times
so why not make it an RC truck for a change?
the LEGO Technic Mack Anthem set is a great inspiration for a Technic truck that looks good without being too big
so I've built a Technic chassis and when it came to the body, I was unhappy with the detail level I could achieve with Technic pieces, so I went with a fully System body instead
The model's functions include drive and steering controlled remotely, with a working steering wheel in the cabin, opening doors and hood as well as a trailer with realistic hitching action, parking outriggers and opening doors. The back of the truck's sleeper can be removed to access the Control+ hub and replace the batteries, while the round tile on the truck's roof can be used to turn the Control+ hub on. What makes the Control+ system very well suited for this model is the proportional speed control, ensuring precision as you drive the truck under the trailer to connect it. The trailer connects in a reasonably realistic way, that is you drive the truck beneath it, line up the truck's fifth wheel and then manually fold up the trailer's parking outriggers which lowers the trailer onto the truck, and makes them connect if done properly.
The inspiration behind the model was the classic Kenworth W900 truck with a flat top sleeper. It's a fairly rare variant nowadays and I've picked it because the flat top sleeper looks oldschool to me, and I also think it makes the truck look better on its own. I mean, trucks with tall airfoils over the sleeper look good with a trailer but when the trailer is gone, they look like something was clearly missing, like a part of something larger. And then there is the matter of complex slopes on such an airfoil, which I don't know how to build at this scale to make them look good and realistic.
As for the performance, the truck has a nice, tight steering radius and a surprisingly good hauling power / speed ratio for a single Control+ L motor. The trailer, which weighs close to a kilogram has pretty much no noticeable impact on the truck's speed and the speed, while not exactly good enough for racing, is more than enough for driving indoors.
If you like the model, each and every single vote is appreciated.
Photos:
Video:
Media coverage: