Apex Legends Pathfinder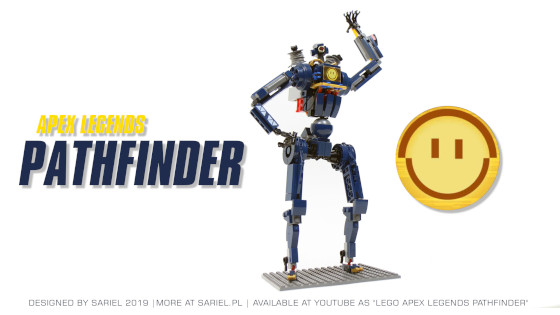 Model of character from the Apex Legends game. Features 26 articulation points, spring-loaded grapple launcher, wind-up winch, swappable screens and custom stickers.
Datasheet:
Completion date: 30/12/2019
I don't have much time for games these days, but when I had, I've enjoyed Apex Legends for quite a while. It appealed to me thanks to friendly, team-oriented gameplay and the way the various character classes completed each other. My favorite character has gradually become the Pathfinder, a friendly robot equipped with a zip-line grapple enabling him to move around quickly. Inspired by the LEGO Overwatch sets, I've decided to turn him into a LEGO figure.
The completed figure stood 26 cm tall and featured 26 points of articulation, down to individual fingers. The left forearm was equipped with a spring-loaded grapple launcher, with a string coming from a wind-up winch on the figure's back. The winch wasn't strong enough to pull the figure up on the grapple, but it allowed grappling and pulling some smaller objects. Additionally, the screen on figure's torso was an easily removable 2×3 tile with a sticker and I've prepared 5 extra tiles with stickers to allow the screen to be swapped, mimicking the real Pathfinder's changing screens.
The figure was also very fragile and included some pieces in mismatched colors, but I was hoping that this would get sorted out by LEGO designers should this project succeed in the LEGO Ideas program. Unfortunately, it never had a chance, because, as it turned out, the LEGO Ideas list of license conflicts in incomplete. When you try to submit a project, there is a form asking you if it's based on existing IP, and when you confirm, Apex Legends appears as a "forbidden IP", on the grounds that it "refers to a brand or licensed property that doesn't fit the LEGO Group's standards for appropriate content or themes." This effectively means that no Apex Legends-related project can be submitted to Ideas.
The project was an interesting experiment that provided me with a chance to try something quite different than my usual models, but I had mixed feelings about the end result. Perhaps LEGO figures are not my thing after all.
Photos:
Video: