75187 BB-8 UCS RC mod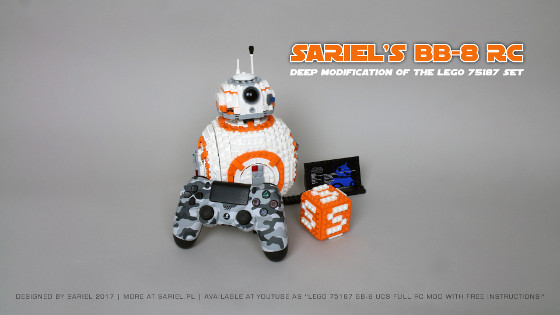 Deep modification of the LEGO 75187 BB-8 UCS set. Features remotely-controlled drive and steering, wobbly head and rotating side body panels. Free building instructions available.
Datasheet:
Completion date: 13/12/2017
Power: electric (Power Functions)
Dimensions: length 20 studs / width 20 studs / height 29 studs
Weight: 0.881 kg
Motors: 2 x PF M
Free building instructions for this creation are available in the Downloads section. Also available from Rebrickable.
A while ago I've bought the LEGO 75187 BB-8 UCS set, and I quite liked it. It looked pretty decent, even if I'm not really a fan of the "studs everywhere" building technique, and it had some pretty interesting functions, including the mechanically brilliant head mechanism. However, it lacked any ability to move around, and that always seemed like an oversight to me, especially given the set's large size. I was somewhat surprised to see that nobody has build an RC mod of this set, and I've decided that the release of "The Last Jedi" can be celebrated with a release of free instructions for such a mod from me.
The resulting creation was a very substantial modification of the original set, with a brand new inside covered with mostly modified body panels – only rear and front body panels were kept unchanged, as well as the head (which was given a brand new "movement" system). 125 additional LEGO pieces were used, including two PF M motors, one SBrick and a power supply (which could be the LEGO 84599 rechargeable battery, or the PF 6xAAA battery box from the Trains sets).
From the very beginning the idea was to make the BB-8 able to drive and steer, while keeping its appearance as intact as possible. I also wanted to keep the wobbly head and make the side panels rotate while driving, thus creating illusion of the BB-8's lower body rolling like it does in the movies. All of this was achieved, but there was pretty much no space inside left for any additional functions. I also had to remove the original extendable arm with a "lighter" to make room for motors and the battery.
The modified BB-8 was able to move thanks to two tiny drive wheels on its bottom, each driven by a single PF M motor with a 1:1.67 gear reduction. It was perfectly possible to change the gear ratio to 1:1, thus significantly increasing robot's speed, but this made it much, much harder to control, since the two independently driven wheels were very close and even a slight difference in their speeds caused change in direction. Each of the two wheels was also connected via a rubber band to the respective side body panel, which was thus driven in the same direction as the drive wheel, but at a slower speed. I think that the illusion of BB-8 actually rolling was fairly convincing when seen from a side, and the rubber bands could act as safety clutches in case a rotating body panel got jammed against something.
Since the two wheels were not enough to keep BB-8 stable, I have added a third point of support in form of a round 2 x 2 plate with rounded bottom (commonly known as "boat stud"). It was a dead simple solution and it caused wear on the plate from sliding on the floor, but in my various tests it has proven better at keeping the robot stable than other solutions, and it also required very little space. My original idea for the third point of support, a pivoting caster wheel (like a wheel in a shopping cart) proved too large and not sufficiently stable.
Thanks to the use of SBrick, it was possible to control the BB-8 very accurately, with small changes to the speed of its two wheels. It would turn in place, follow an arc and drive straight with ease. The controls were even more fun when I've made use of SBrick's gaming pad support and configured a PS4 pad to provide a simple skid steering for the robot. My instructions include explanation on how to configure the SBrick and the PS4 pad for use with the BB-8.
It was a fairly simple build that I've enjoyed tremendously, mostly because of how fun the result was. What I enjoyed less were the long days of work put into creating the instructions of sufficiently high quality, since I wanted them to be really well-polished. Even such a relatively simple creation was quite challenging when it comes to making comprehensible instructions, but I was happy to be able to share the instructions for free. With just a little hope that some of their happy users may want to donate a little something via paypal.me/sarielpl.
Photos:
Video:
Media coverage:
PromoBricks (German), Zusammengebaut (German)