Mercedes-Benz Hexawheel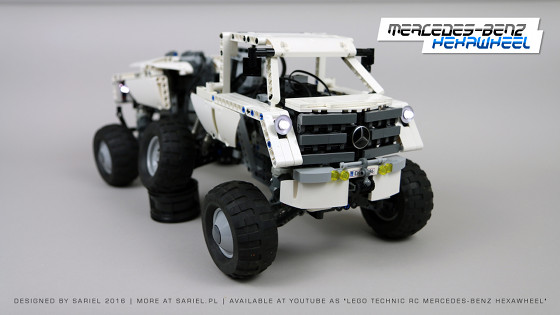 Model of a concept off-road vehicle. Features drive, steering, suspension, articulated central joint and lights.
Datasheet:
Completion date: 23/03/2016
Power: electric (Power Functions)
Dimensions: length 54 studs / width 26 studs / height 24 studs
Weight: 1.496 kg
Suspension: independent, with adjustable shock absorbers on axles #1 and #3
Propulsion: 2 x PF XL motor geared 5:1
Motors: 2 x PF XL motor, 1 x PF L motor, 2 x PF Servo motor
The Hexawheel is an unofficial concept design created by Rouhi Dehkordi and never built in real life. Many years ago a friend has shown it to me, and it was stuck in my "to do" folder for a long, long time before I decided to pull it off as a leisure build between more serious projects.
The model was simple, lightweight, and it only roughly looked like the original vehicle. I was mostly interested in its unusual chassis and central joint, not in its looks. The original vehicle's concept called for a hydraulically activated joint that could move up and down as well as left and right. My model was built with knob gears instead of differentials for increased off-road performance, which made cornering difficult, and I've decided to skip the left/right joint movement because it would put too much stress on the drivetrain, and it would inevitably make the model much larger and heavier. In fact, the lack of differentials was showing so much that when I've tested the model with custom tires, much grippier than LEGO ones, they would get literally peeled off the rims when cornering.
The propulsion system was quite powerful, with two PF XL motors geared down 5:1, each driving the drivetrain from one end. When the u-joints in the central joint inevitably got damaged by stress, the model simply kept driving because it only affected the middle axle, the first and last one were fine. The steering was carried out by two PF Servo motors coupled together via a PF switch, each controlling one axle. A single PF L motor was driving the central joint's elevation mechanism, using a simple system of worm gears and levers which was strained to its extreme and should have been replaced with linear actuators if the model was any heavier. The central joint also had some backlash which was actually helpful when negotiating obstacles, but the elevation function also came in handy, as shown in the video. The entire suspension system was independent and raised high up, with soft shock absorption and long travel. Adjustable LEGO shock absorbers were used on the extreme axles and kept on hard setting for most of the time, as the soft setting would make the suspension sag a little.
The model was simple and crude, but at the same time tough enough for some serious outdoors driving, and very good at extreme climbing. Still, it put a lot of stress on the drivetrain and damaged some pieces, demonstrating the need for portal hubs.
Photos:
Video: