Enzo Gearbox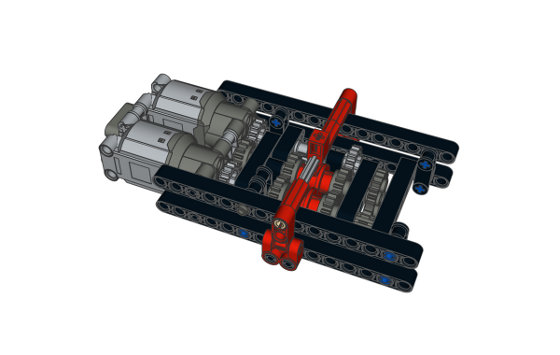 A manual 4-speed gearbox from my Ferrari Enzo model.  Instruction available.
This gearbox, developed specifically for my Ferrari Enzo model, is a fairly typical manual 4-speed gearbox with two driving ring similar to my old design. It was, however, designed to fit easily into a chassis and to connect with one or two motors in a compact way. It is also a fairly robust gearbox and its output is conveniently located in the middle of its bottom, and can be connected to a driveshaft in front or in back of the gearbox.
The main advantage of this design is that the four long beams that hold it together can be used as part of the chassis' bearing frame – in fact, they were used as such in the Enzo. This makes the gearbox easy to integrate into the chassis. The gearbox is also relatively flat, and its centrally located output makes it easy to connect it to the driveshaft.
Free building instruction for the gearbox is available in the Downloads section.