Variable Pitch Propeller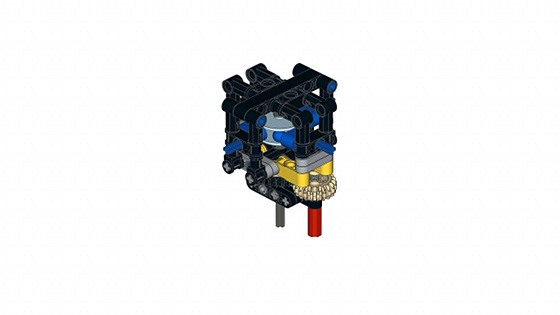 A propeller hub with adjustable blade pitch concept.
Many propellers in common planes (or boats) allow adjusting pitch of all blades at any moment – and even reversing it, in some designs. I was interested in recreating it, seeing it as a challenge that was apparently never approached in the official Technic sets, as opposed to a regular helicopter rotor. The designs are actually somewhat similar, with the primary difference being that a rotor has the pitch-changing mechanism exposed and located near the blades, usually below them, while a propeller has the same mechanism enclosed within the hub housing for better aerodynamic properties.
The building instruction for this design can be found here.
My hub design used four blades and was based on a small Technic turntable, which was rotated by a 20-tooth double bevel gear next to it, and through which a pitch-controlling axle was put. Pushing this axle and pulling it back controlled the pitch of all four blades at once, also allowing reversing it. The design was somewhat bulky, but sturdy, except for the fact that the centrifugal force could pull a blade out of it at higher speeds. I have used a rubber band to counteract this effect, but it still occurred at very high speeds, with near-zero pitch.
I have used the hub primarily to test the thrust generated by the blades from the 9396 Helicopter set, and it turned out to be highest at near-zero pitch, when the rotational speed of the propeller was highest. According to my imperfect measuring method involving a kitchen scale, the total thrust achieved with 1.2V batteries was sufficient to lift over 50 grams of load. It could most likely be noticeably higher with regular 1.5V batteries.
Photos:
Video: