Komatsu 930e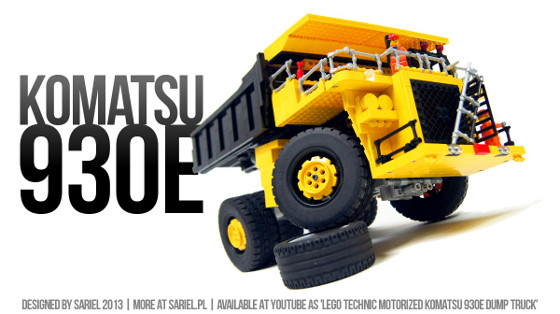 Model of one of the largest dump trucks in existence. Features drive, steering, and dump mechanism.
Datasheet:
Completion date: 02/03/2013
Power: electric (battery box)
Dimensions: length 53 studs / width 27 studs / height 26 studs
Weight: 2.106 kg
Suspension: front – independent / rear- live axle
Propulsion: 1 x PF XL motor geared 2.33:1
Motors: 1 x PF XL, 2 x PF Medium
Komatsu 930e is one of several very similar big dump trucks that are being used in world's largest mines because they are more efficient than a fleet of smaller vehicles. I wanted to model it, using a studfull body on top of a heavily compacted studless chassis. My initial plan to use my servo gearbox in this model failed when it turned out that the model is too heavy for the Servo motor controlling the gearbox.
The model housed three motors, 2 large linear actuators and a few mechanisms in the space between axles. The available space has been used to the point where it was very difficult to make the wires fit in somewhere. The completed chassis was agile, with simple drivetrain that used the XL motor quite effectively, and with a very good steering lock. The body was relatively lightweight and did not affect the performance much. Most of it was built in a fairly traditional way, except for the very front which was built with studs facing forward.
The model was very simple and somewhat inaccurate. Still, it was fun to drive, and it provided a good experience in compacting mechanics and in combining studless/studfull structures. It was also one of my very few models that roughly fit the LEGO minifigure scale.
Work in progress photos:
Photos:
Video: