Monorail Mk4: Police Transport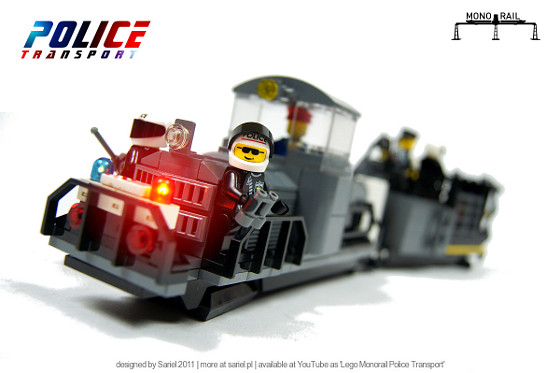 My fourth Monorail creation, features a single line and a detachable prison cell.  
Datasheet:
Completion date: 04/08/2011
Power: 9V (Monorail)
This simple creation was inspired by the Lego 6991 set, which features a Monorail car with a cargo unit that is detached upon reaching the end of the line. I decided to create a simple Monorail with police squad escorting a prisoner in a detachable cell.
The Monorail consists of two cars. One was modelled after a typical locomotive, and the other one just included some escort and the detachable prison cell. The cars were built in dark grey colour that would suggest a military theme. The locomotive included one set of flashing light bulbs, with one red and one blue cover, thus making it appear more police-related. The prison cell was built like a sledge that was pushed up a stand by the Monorail, which would then stop and go back without it.
It was an extremely simple creation, but I enjoyed it. The locomotive allowed me to try a couple of building techniques on a Monorail car, and the prison cell worked just like intended.
Photos:
Video: