AeroShift Gearbox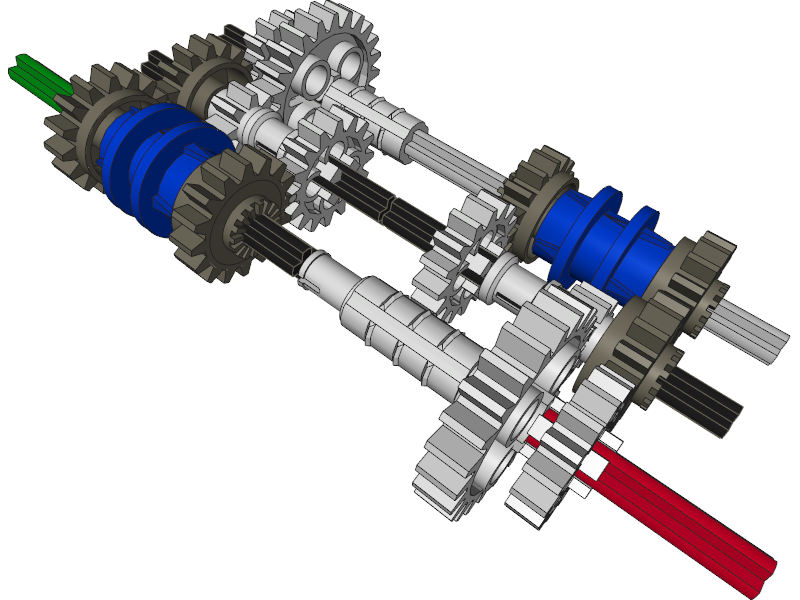 New gearbox concept – a 3-speed sequential synchronized pneumatic gearbox that can be operated entirely remotely.
The gearboxes are very useful even today, with the speed control feature available with the Power Functions system. They are even more useful when they are remote-controlled, because this way the vehicle doesn't need to stop to shift gears – instead, the gears can be shifted while driving. This type of gearboxes can work just like the real ones: it can have some gears that are unable to start the vehicle, but can speed it up once it has some momentum already.
The easiest type of a remote-control gearbox is a 2-speed one, because it can be easily motorized like an end-to-end device; it can shift between 2 gears with a single motor easily. I always wanted to build a remote-controlled gearbox that would have more than 2 speeds and still require only a single motor to be operated. It was eventually achieved with the AeroShift gearbox (I made up that name because the '3-speed remote-controlled sequential synchronized pneumatic gearbox' didn't sound too catchy ;)).
This gearbox is, as mentioned above, sequential, which means that it can't shift from any gear to any gear. Instead, it has to shift through gears in a sequence, e.g. from 1st to 2nd and then from 2nd to 3rd. This type of gearbox is quite popular in motorbikes. The gearbox is also synchronized, thanks to the use of the driving rings, on assumption that it would be troublesome to watch for grinding gears in a gearbox that's supposed to be operated remotely.
If you look closely enough, you'll notice that the gearbox consists of two identical modules set as 'mirrors' of each other. It is perfectly possible to build more than two modules – the first one will provide two speeds, and each next module will provide one extra speed (hence 3 speeds with two modules). The gearbox would have 5 speeds with four modules, 7 speeds with six modules, and so on. I did not attept to use more modules, because for me 3 speeds with a gearbox of this size was a good solution, while 5 speeds with a gearbox twice as large was not. Additionally, it would require more than a single pneumatic cylinder to be operated, and thus greatly complicate the pneumatic system.
It should be mentioned that this gearbox can be operated without pneumatics. It would, however, require a number of gears, including gears with clutches, as well as a mechanism that would work like a stepper motor. Since a single pneumatic cylinder can replace all these mechanic parts, I have chosen this solution as a significantly simpler one.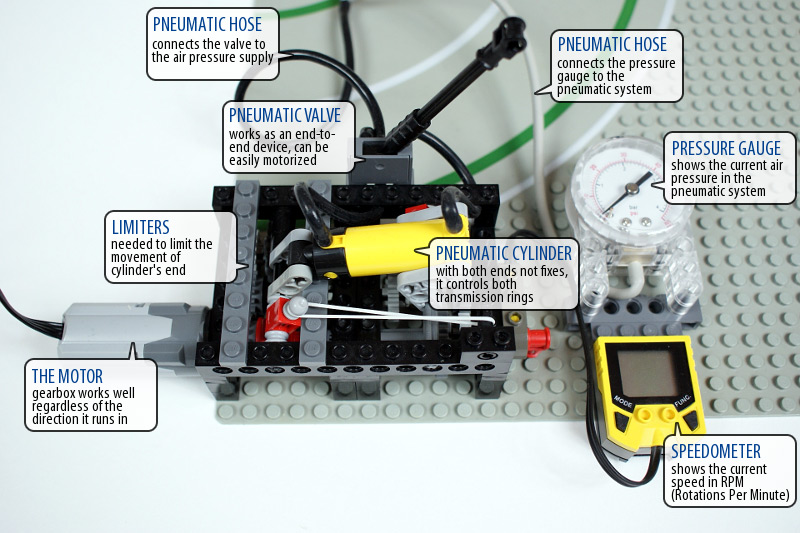 The picture above shows a testing setup. The pressure gauge and speedometer are obviously not needed for the gearbox to work, and the pneumatic valve is supposed to be operated by a motor. The parts that are important for the proper functioning of the gearbox and may not appear so on the photo include the rubber band which makes sure that the driving rings are switched sequentially, not simultaneously, and the grey thin plates described as 'limiters' above, which make sure that the movement of the pneumatic cylinder is contained within a desired range. The cylinder can be mounted with its inlets pointing downwards to take less space, but it requires placing the pneumatic hoses in such way that they don't interfere with the moving parts of the gearbox. I believe that this photo along with the ones that follow it are sufficient to build a copy of this gearbox, so I will just list the pros and cons of this gearbox according to my observations.
Pros: relatively small size,  ability to handle huge torque (the critical elements are the driving rings that tend to disengage when too much torque is applied), convenient location of the input and the output, identical functionality for the driveshaft rotating clockwise as well as counterclockwise, and a minimal chance of the mechanical failure in the gearbox (e.g. because all the gears that transfer the drive are encased in solid bricks).
Cons: uses pneumatics, doesn't work well with high air pressure (it causes strain on the driving rings and thus slows the gearbox down, so use of an airtank with this gearbox is not recommended), is sequential (impossible to omit the middle gear, though it can be switched through it really quickly) hitting the medium gear precisely can be tricky (depends mainly on the proper calibration of the rubber band and the pneumatic pressure in the cylinder), the gears are shifted relatively slowly,  and there is a number of dead gears that generate additional friction.
The gearbox offers the following gear ratios: 1:1, 3:1 and 9:1. If these differences are too large for your use, it is perfectly possible to replace the 8t & 24t gears pairs with 12t & 20t gears pairs. It will result in the gear ratios changed to 1:1, 1.66:1 and 2.77:1, while the functioning of the gearbox will remain the same.
Photos:
Video:
Media reference: