3/9-speed RC combinable transmission for PF Servo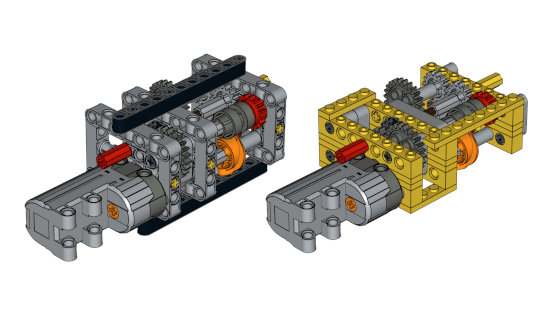 My most practical transmission design up to date, featuring 3 speeds that can be shifted while driving, and designed to easily combine two units into a single 9-speed transmission. Instructions available.
The new rotary transmission selector introduced by LEGO in the 42083 Bugatti Chiron set has finally opened up new possibilities in the LEGO transmission design. It took me a while, but I've finally managed to come up with a good way to put the selector to use.
The building instructions are available here: http://sariel.pl/downloads/
The transmission, which is yet another iteration of my 4-speed transmission design, has been developed specifically to address issues commonly found in most LEGO transmission designs. This resulted in the following advantages:
shifting while driving instantly, to any speed, without any need to stop or to check or observe the transmission, with 100% precision and without jamming
gear ratios ranging from 5:1 to 1.6:1
input and output aligned end-to-end, rotating in the same direction; you can easily turn the transmission around to swap input for output and get ratios that gear up instead of down (from 1:1.6 to 1:5)
input and output are centered in the transmission unit for easy integration into a chassis, and the PF Servo can be attached to either side
the whole unit is relatively compact (5x7x10 studs not including motors and side beams), heavily reinforced and conveniently shaped like a cuboid
can be easily built into a studless or studfull structure
designed so that you can easily combine two units into a single 9-speed transmission producing 7 various gear ratios from 25:1 to 2.77:1
On the downside, the design requires a PF Servo motor and when used with a standard PF remote, it's necessary to hold down the lever to keep 1st or 3rd speed selected. This, however, can be mitigated by using SBrick programmed in the way shown in the video below.
Compact size and instant shifting made this my most practical transmission design up to date – but taking into account that the use of PF Servo is a limitation because it only allows 3 speeds, I have already started working on a 4-speed variant that could be controlled using a Control+ motor or any motor equipped with my stepper mechanism.
Video: