100 MOCs and 5,000,000 video views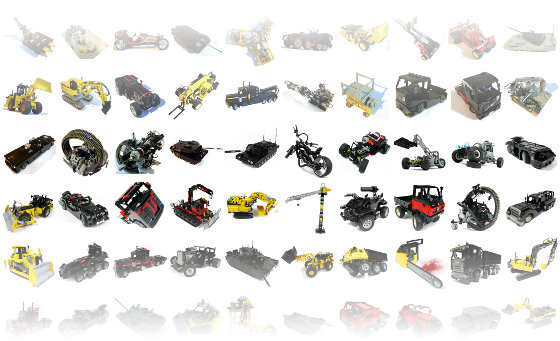 My previous construction was my 100th MOC. Additionally, my YouTube videos have hit 5,000,000 views total.

And so it finally happened – I have reached 100 MOCs. You can see all of them put together in chronological order below:
I have obviously built many more MOCs in my childhood and upon coming out of my Dark Age, but they were not documented, and frankly I doubt they were worth documenting. I remember that my adventure with Lego started some 20 years ago when I got the Lego 6612 Fire Chief's Car set (come to think of it, I should now buy a new one and keep it on a shelf) from my parents. I was utterly fascinated with the set and with the amazing Lego fireman, with his uniform and helmet (which I admittedly bit more than once).
For the next couple of years I as collecting and enjoying Lego sets from various themes (I remember being very fond of Castle and Pirates theme), until around the age of 13 when I got my first Lego Technic set ever: the 8815 Speedway Bandit. It was a very simple set, it had few pieces but I had a big imagination and I've been building craziest things out of it. That was it – I have never taken interest in any other Lego theme since then, only Technic mattered to me.
I entered my Dark Age around the age of 16, when I had a bunch of small Lego Technic sets (I believe the 8830 was among my biggest ones). My entire Lego collection ended up in the attic, where it remained until I was 22 or so. Like many adults, I felt there was something missing in my life without Lego – and one trip to the attic fixed that. I haven't just started to build again – I have also discovered that I can now buy a lot of sets and pieces I could only dream of in my childhood, and I went on a Lego shopping spree.
I believe I was shopping and building for my own pleasure for over a year, until I came across LUGPol (Lego Users Group Poland) early in 2007. It was a revelation – I have discovered there are other adults indulging to the same pleasure as I did. I registered at LUGPol forum on March 28th 2007, and I have written over 3,000 posts since then, which makes me LUGPol's first chatterbox. According to LUGPol stats, I have visited forum 22,473 times so far, spending a total of over 6,800 hours on it. Which is scary 🙂 With time, I have become a moderator at LUGPol, joined the LUGPol VIP members group and created a new forum section: LUGPol Wiki, a collective knowledge database.
At the end of 2008 I had so many MOCs already published at LUGPol, that I started to think about creating some sort of database before some posts get deleted and before I forget what I built. Back then, I was already looking at building with Lego as a single, continuous activity that is developed step by step – that is, I was focusing rather on the building itself than on any particular single MOC. I already had a list of future projects and for me, every MOC was just a step along a way – which is why it was important to me to be able to refer to my old MOCs. It eventually led me to launching my own website on December 2008 – the first post on it was written on December 23rd, a day before my 26th birthday. That's why I consider this website sort of a self-given birthday gift 🙂
Contrary to popular belief, only 12 of my 100 MOCs are tanks 😛 The first 10 MOCs on the list have been built in the pre-Power-Functions era, using external battery boxes and wires. The release of the Lego Power Functions system was a dream come true for me, and I have started building more, bigger and better since then. At one point I have even become a member of a group of prototype testers for the Lego company.  I have also started to create computerized MOCs using Lego WeDo system, I included the Lego Monorail system into my "portfolio" and I have started to increase the variety of my constructions by building MOCs that could walk or float. I actually plan to continue this tendency and to add several more new MOC categories to my website.
Somewhere along the way I have also launched my Facebook page, I have been invited to write for the official Lego Technic blog (and it means that my bio is up there on the Lego Technic website, together with Lego designers' bios), and I have received an offer of writing a book for an US publisher, which is in the making.
I think my best MOC up to date was my 90th one: Tow Truck 2,  with 17 Lego motors and almost 19 meters of electric wires, was my most complex MOC up to date, and a very good-looking one too.
Finally, my 100th MOC was primarily white, which is a colour I have never used before. I have also obtained something I was looking for for a very long time: the Lego RC system. I intend to blend it and complete it with the Power Functions system, thus opening new possibilities – like two MOCs, one PF-controlled and another RC-controlled, working together. I have plans for one such a tandem already, and I hope it won't be the last one.
Some of my MOCs were successful, some were failures, but all of them were steps on the way that brought me here. Somehow, I believe I may have enough ideas for just another 100 MOCs 🙂
Mu 100th MOC happened to be created just when my YouTube videos have reached 5,000,000 views. It's still nothing compared to Rebecca Black's views, but I somehow I don't think I would trade places with her 🙂
I have 165 videos and 5,010,097 views as I write this, which gives  an average of over 30,000 views per a single video. My YouTube channel has been viewed 120,000 times and I have 3,174 subscribers – a number which, I believe, will grow after my latest video. What you may find surprising is that YouTube never paid me a single cent, as I am not a YouTube partner and I will never be one because I like to use copyrighted soundtracks in my videos too much.
My most viewed video is – surprisingly – my Lego Chainsaw. It's an extremely simple construction with a single motor and no remote control whatsoever, which shows how unpredictable YouTube viewers are:
My two next most viewed videos are: 5 speed linear gearbox and S Tank: How it works. These three videos are my only ones with over 200,000 views each at the moment.
The list of my most liked YouTube videos seems to make more sense, as it starts with this:
Followed by my two latest tanks:
The bad thing about my videos is that YouTube sometimes updates its viewing standards and re-processes its videos. For a number of my oldest videos, this meant a drastically decreased quality and I have no means of fixing it other than creating new videos, which in most cases makes little or no sense. Early in 2011 I have started to film in HD standard using a Sony a33 camera and editing my videos with Pinnacle Studio software. It should guarantee that my videos will maintain good quality in future.
As of June 2011, the number of my video views has been growing by roughly 8,000 per day, which is a very nice rate and it stimulates me to work hard on my videos to make sure the viewers enjoy them. I believe that filming and editing has become a pleasure itself for me, and I enjoy it greatly even while not filming my MOCs. I hope I can continue to develop new ideas to keep my videos interesting. The amount of attention they're getting today is very rewarding – it makes me feel my effort is appreciated, which is extremely satisfactory. Thank you for that 🙂