Aliens M577 APC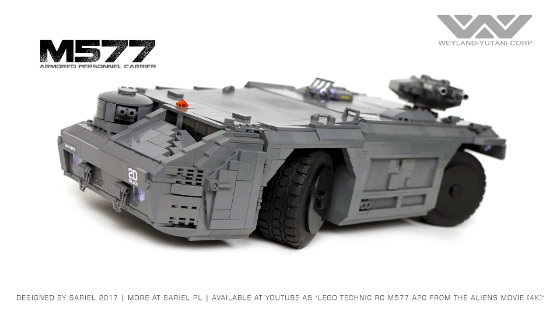 Model of a fictional APC from the Aliens movie. Features all-wheel-drive, all-wheel-steering, suspension, front turret with rotation and elevation, rear turret with rotation and sliding, opening missile pods, sliding side door, lights and custom stickers.
Datasheet:
Completion date: 26/03/2017
Power: electric (Power Functions + SBricks)
Dimensions (with rear turret on the roof): length 64 studs / width 26 studs / height 21 studs
Weight: 2.76 kg
Suspension: pendular
Propulsion: AWD, 2 x Lego PF L motor geared 4.2:1
Motors: 2 x PF L, 4 x PF M, 2 x Micromotor, 1 x 71427
Seeing as the Aliens movie is now 31 years old, I will start by recalling the best combat drop footage ever made, which still kicks ass after all this time, thanks to the unique combination of killer model effects, a genuine Marine playing the sergeant, and the late Bill Paxton:
As for the model, the M577 was a fictional APC built for the movie using an aircraft tug (resulting in a vehicle so heavy, the set had to be reinforced to hold it). I've actually built a Lego model of it once already, back in 2008, and I was haunted ever since by its wrong color, its terrible choice of wheels and its rear turret which did not slide back. This time, my goal was to improve on all three accounts.
The model was pretty accurate-looking, as this time I was building it using highly detailed blueprints made by Graham Langridge, based on the documentation from the film studio that made the Aliens movie. The large only difference was the front turret, which was a little too tall and moved 1 stud back from where it should have been, all of it in order to fit two functions in it. The whole model included a long list of functions:
all-wheel-drive and all-wheel-steering (2 PF L motors and one PF M motor)
front turret rotation and elevation (a Micromotor and one PF M motor)
sliding side door (71427 motor, since I needed a short motor to fit in the available space)
opening missile pods (one PF M motor)
rear turret rotation and sliding (a Micromotor and one PF M motor)
One of the chief issues while building the model was fitting all the complicated mechanisms inside the hull. I have managed to put the two motors controlling the front turret (using the same mechanism for rotation and elevation as in my A39 Tortoise model) along with the steering motor in front of the front axle, leaving me with 6 more motors, 2 SBricks and one 8878 battery to fit between the front and rear axle. In order to make everything work, I had to build some mechanisms around the others, and many of them interlocked together. For instance the sliding door mechanism was built around the missile pods mechanism, which in turn went across the rear turret's sliding mechanism. The last mechanism was, in fact, most demanding, as it stretched all the way from the back of the hull to the front axle and it required extra room for the Micromotor's cable to move. Since the Micromotor would move quite far forward and backward, and I needed it to work at all times, I have connected it to a long 9V cable (which is much longer than PF cables, and much more flexible, having only 2 wires inside it rather than 4), which was folded in U-shape, just like cables or hoses on telescopic handlers are folded. Basically, it forced the cable to stretch straight when the turret was in the back and to fold in half when the turret was in front. Another challenge was the suspension system, with pendular axles braced in studless structure attached to the chassis and taking up a lot of space. Each of the axles was stabilized by two shock absorbers, but they were set at different angle in the front axle, to reduce its travel and to make its suspension harder.
The thing I was happiest about was the sliding rear turret, which has taken a lot of effort to get to work smoothly. My initial idea was to use a section of the 5-studs-wide track with a sprocket wheel driving it from below and a motor attached on top. The track would, however, get stuck repeatedly because its complex shape made it catch on the surrounding bricks. I needed something as smooth as possible and something that could be bent at right angle as well as be pushed and pulled. The final solution was a Technic brick with a rack on its bottom, connected to a flexible section of interlocking 2L beams, built just like e.g. tracks in my Maus tank model were built, and with a Micromotor attached on top. The flexible section's shape would adapt to the guides made of arched bricks, making it gradually bend at right angle while sliding to the back – it was similar to how some garage doors work. The rear turret itself was installed on top of the Micromotor and rather large, but because the Micromotor was very close to its center of gravity, it was able to rotate if effortlessly.
I did a number of experiments while building the model. There was a version of the side door that would fold into the hull when closing, to fit flush with hull's side, like the sliding door of a van, but it had some serious play in it and it didn't look like in the original vehicle. There was a version of missile pods that would extend the missiles a little after opening up, but it needed too much room and it was too jerky in its working. There was also a third Micromotor which would rotate the spotlight on the roof left or right, depending on which side the front wheels were turned, but it was very tall, ugly and actually difficult to control. In the end, I went with solutions that made the model look more like the original APC.
My only regret was that the model ended up at a larger scale than initially planned, and that has pretty much ruined my plans to build a Dropship model to carry it. At this model's scale, the Dropship would need to be over 2 meters long, so a more realistic option is to build it at a smaller scale and equip it with a much smaller, simpler APC to carry.
All in all, it was a very enjoyable build and I think it has reached all the goals I wanted it to reach, meaning that I will never have any reason to build a third version.
Work in progress photos:
Photos:
Video:
Media coverage:
Gadgetsin, Popmech.ru (Russian), The Lego Car Blog