How I flew with the LEGO company to Australia to turn a giant excavator into an RC model

Summary of a crazy project I've spent several months working together with the LEGO company on.

In short: 
 the LEGO company has invited me to participate in a project that called for operating the Liebherr R 9800, one of the world's biggest hydraulic excavators, remotely using LEGO pieces and Control+ app.
yes, I really was controlling the R 9800 from a phone. The issue of Bluetooth's insufficient range was solved by tranforming the Bluetooth signal into a wi-fi signal and then back again.
no, I didn't get paid
my job was to build the mechanism for controlling the foot pedals and then controlling the R 9800 remotely
no, I didn't get a job at LEGO
In full:
At the beginning of this year I have received an invitation from the LEGO company to join a project created to promote the LEGO 42100 set. The project called for using pieces from the 42100 set to control the real R 9800 excavator remotely using the LEGO Control+ app. Since we weren't allowed to modify the real excavator, the task required building LEGO mechanisms that would move joysticks and foot pedals in a manner mimicking the real operator's movements. The plan was to control the mechanisms remotely and thus operate the real R 9800 from outside.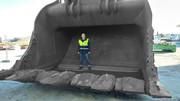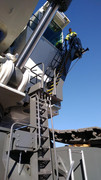 Ever felt like a dwarf? Exactly…
Why was I given this incredible opportunity? Last year LEGO has invited me to Billund for the official reveal of the 42083 Bugatti Chiron set. As a part of the event, I sat in front of a camera and built the set while LEGO live-streamed it. I was finished in 6 hours and 20 minutes, but to be fair I had another person sorting pieces for me, and I have built another copy of this set once before. In any case, LEGO was happy enough with this event to invite me to join the R 9800 project. I have signed a contract which clearly stated that I would not be paid and that LEGO would only cover travel & accommodation costs. That, and a long NDA 🙂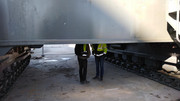 Rare R 9800 version propelled by two tracks and four legs
We set out to work in a team of four: me and three LEGO employees. Petr was the other builder, Pavel was our electric engineer, and Libor was our general manager, making sure we do what we're supposed to do, we're fed, transported and taken care of. For starters, we have flown to Colmar, France, where a giant Liebherr factory assembles real R 9800's. Very nice Liebherr people have allowed us to play with a test R 9800 unit standing next to the factory (it didn't fit inside), to measure everything inside the cabin and to learn how it's operated.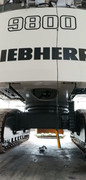 If you're curious how much smaller the LEGO R 9800 is than the real R 9800. Yes, that small thing down there is the LEGO version.
For those interested, operating the R 9800 is actually fairly straightforward. The operator has a seat with a joystick on either side and two foot pedals in front. The pedals are two-sided, meaning that you can press them forward or backward, and they are used to drive the tracks, one pedal per track. The joysticks are used to control the arm and the bucket. The right-hand joystick controls the boom elevation in Y axis and tilts the bucket in X axis. The left-hand joystick controls the stick elevation in Y axis and rotates the superstructure in X axis. There is, of course, a whole array of important displays and a panel with a multitude of buttons to go with these, but these are the essential controls. We were told that an experienced operator can do the full working cycle (dig, lift, rotate, unload, rotate back) in approximately 20 seconds, meaning that he can load a dump truck three times per minute. But before he starts, there is a safety measure in form of a big lever on the seat's left side. The lever disables the entire excavator when raised and blocks access to the seat when lowered. So the procedure is that the operator always lowers the lever when he gets on the seat and always raises the lever when he gets off the seat. This way the excavator can't work without someone in the operator's seat.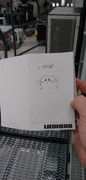 The LEGO film crew handed me a notebook and asked me to draw something in it to make me look smart for the video. I obliged.
I flew to Colmar three times. Me and Petr quickly agreed that he would handle the difficult part of controlling the two joysticks, while I would deal with the foot pedals, which was easier. By my third visit my mechanism was working as intended (which proved trickier than expected, since the pedals have their axis of rotation in a rather odd place, and since the seat, to which the mechanism was anchored, is adjustable and we frequently found it in different position than previously), so the rest of the team continued without me. I have fond memories of the Colmar factory, though. I was even allowed to film inside the factory, but eventually my video was deemed unfit for publication. The place where such giant machines are being assembled is very special, the entire roof of the factory has cranes moving under it and it's fairly common to see a house-sized excavator part hanging in mid-air, or to see an entire EUR-pallet taken up by a single spring or track link (the R 9800's track links weigh 1 tonne each). At one point I've come across a worker operating what appeared to be a heavy machine gun hanging from a hoist – it turned out to be a screwdriver used to attach sprocket wheels for excavators, using dumbbell-sized screws. Talking to the Liebherr people was quite enjoyable as well. They would often say things like "our bucket solution with removable teeth is great because you can swap the teeth anytime, anywhere… provided you have a crane, of course". Apparently when working with certain materials, the teeth are changed every 48 hours. Machines such as the R 9800 are designed to work 24 hours per day, with only the operators changing. A fuel consumption can exceed 14,000 liters per day for a single excavator. This is why mines where such machines are used have their own railways just for transporting fuel. But we'll get to the mines, and in the meantime Colmar was really lovely and educative. We even found out that Liebherr has their own airfield next to the factory, where a team from the Bugatti headquarters at nearby Molsheim comes every Tuesday to test the Chiron.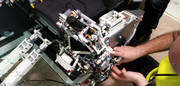 Somewhere between second and third prototype.
While working at Colmar, we found a technical problem concerning the remote control range. The LEGO 42100 set relies on Bluetooth connectivity and the safety regulations require that nobody is standing within 100 metres from a working R 9800. We have learned to respect these regulations pretty quickly, after having been under the excavator's rear end while the operator started the engines. The roar of two V16's overhead sent us away really, really quick. In any case, 100 metres is obviously too far for Bluetooth, so the LEGO electronics engineer from LEGO team developed devices that could transform the Bluetooth signal into a wi-fi signal and back again. Basically, we had two boxes with electronics: one sitting on the excavator and connecting with LEGO hubs inside the cabin via Bluetooth, and the other sitting near to where we wanted to control the exavator from, connecting with the phone running the LEGO Control+ app via Bluetooth. The boxes connected with each other using wi-fi, so that the Control+ app on the phone thought it was communicating directly with the LEGO hubs in the cabin. Once that worked, getting the right wi-fi range was just a matter of big enough antennas. And some paperwork, because bringing the boxes to Australia required a formal manifest of every electronic component used in them.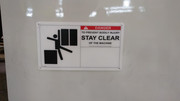 One day, the Skynet will put the same stickers on Terminators T-800.
Why Australia? The plan was to use the mechanisms we've developed on a R 9800 inside some open mine. Partially because the R 9800 unit in Colmar was standing in a middle of a nice green meadow that we didn't want to destroy, and partially because the R 9800 unit in Colmar was being used for testing various engines. The Liebherr team kept pulling some engines from it and putting some other engines in their place, and there was no guarantee that the excavator would be powered at all for our film. That's why LEGO started looking for mines around the world that used R 9800's – but most of them worked 6 days per week and we needed at least 2, ideally subsequent days for filming. In the end, a mine working just 5 days per week was found in Australia. We have applied for Australian visas, got them, and then it was time for the main event.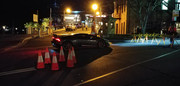 Within 5 minutes of arriving at Sydney I've bumped into Lamborghini Huracan and McLaren P1. What a city!
The team that flew to Australia included the four of us, a filming/producing LEGO team and some Liebherr people. We have been joined by the mine team on site. For me, the travel totalled over 16,000 kilometers one way: from Warsaw to Paris, then (onboard the amazing Airbus A380) to Abu Dhabi and then to Sydney. It was an incredible journey, even if it required spending 23 hours in a seat in the economy class.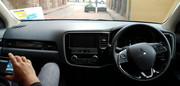 So who's doing the driving, again?
Once at Sydney, we have slept off the jet lag, briefly enjoyed the views (the city is truly amazing) and tried to adapt to Australian winter (it's like this: it gets pitch dark around 5 PM, but the temperature barely drops below 20°C, there's no trace of snow and people walk around wearing T-shirts and sit in front of the restaurants). We drove to the mine by a car, and the drive, which looked very close on the map, turned out to be over 200 km long. For a person from Europe the sheer size of Australia is truly mind-boggling. As for the Australia's famous wildlife, we have been told that it's too cold for snakes, spiders and crocodiles to be active. Still, Australia kept surprising us with people driving on the wrong side of the road, the vernacular (quote from an article on the typical Australian expressions: "in Australia, a gas station is called a petrol station. If you ask for gas, don't be surprised if someone farts.") and with everyone joking all the time. The Australians proved very serious about safety, though. There were fire suppression systems, hydrants, warnings, escape routes, emergency instructions and other stuff everywhere, which was understandable in the wilderness or close to a coal mine, but somewhat baffling in the middle of Sydney. Also, the sun was going backwards on the sky.

Sometimes the wait for the missus to finish shopping lasts a little longer
Our first day at the mine was just one long safety training. We've spent the first half in room full of people discussing the hazard levels of our project's consecutive steps and marking them using special tables. Entering the mine was only allowed in cars with high-visibility markings and with fluorescent flags on tall poles, and only after we have reported to the mine overseer over radio – all of it to avoid being run over by a dump truck the size of a house. All of us have been required to wear safety vest, safety shoes, gloves, safety glasses and hard hats at all times. It seemed a bit excessive until I have noticed what happened to rocks caught in R 9800's tracks. See, every now an then the tracks would pick up a rock, often the size of a bowling ball or bigger. As soon as the rock arrived at where the track came in contact with a sprocket, there would be a loud POP! sound and the rock was replaced by a cloud of fine dust, without the excavator slowing down even a bit. There was also an interesting system that prevented the excavator from being started with unauthorized people aboard. Each of us was given a padlock upon entering the mine and the main ignition key for the excavator was kept in a special metal box with multiple holes in its lid and sides. This enabled the box to be locked by multiple padlocks, and every person coming aboard the R 9800 was first required to lock the box with his padlock. This way there was no way to start the excavator without everyone who entered it being accounted for.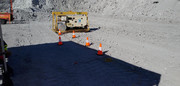 While down in the mine, we've asked if there is somewhere we could plug a laptop into. Few minutes later a crane carrying a container-sized power generator arrived.
There are many things I could say about the R 9800 itself, but there are no words and no video that would give you the sense of how enormous it is in reality. The excavator is as big as a three-story house, if a house had an arm that can move at frightening speed. When a standard truck was passing the R 9800 at Colmar, it was completely hidden behind its track. The excavator's top deck, where the cabin is, is located 10 meters above the ground. You could park a big SUV inside the bucket and still have a room to spare – we've measured it. It felt surreal to be standing next to this machine, like being on the set of another Transformers movie. My brain simply struggled to process the fact that this isn't a building and that it can move. And it felt scary inside the cabin, too, because moving the arm caused the entire excavator to sway; even completely empty, the bucket weighs 60 tonnes and the operators are normally buckled in.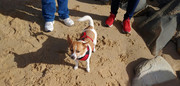 The deadliest creature I've come across in Australia turned out to be Buddy. Roughly 1.5 kg of pure undiluted bloodlust.
Speaking of the arm and the bucket – the LEGO set looked different from the real R 9800 due to the different arm configuration. These excavators come in two configurations: front shovel and back shovel. LEGO has choses the front shovel variant in their set, but in reality most R 9800's are using the back shovel one. Liebherr people mentioned only having built two front shovel R 9800's, both of them apparently operating in Russia.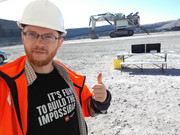 One last selfie before operating the R 9800. You know, to at least have this souvenir, in case I break Australia.
And then, after lengthy preparations and triple-checking everything, I was handed a phone connected to the R 9800 and told to play with it. In order to keep it safe we had a telemetry station next to me, getting a real-time readings of the positions of joysticks, pedals and other parameters from the excavators. This was the only way to get some feedback from the machine, and it would be extremely dangerous to operate an 800-tonne monster without any feedback, by just looking at it from afar. I have started by moving the arm, then drove the whole excavator around a bit. My knees felt weak but everything worked out fine. My strongest memory is when I moved two sliders on the phone's screen and the R 9800 started driving forward. This immediately elicited a panicky thought: what if I can't stop it?
Luckily, everything worked out exactly as planned, without any problems, and the film crew got everything they wanted. For us, it was time to get back to Sydney and on a plane. I flew home via Singapore but I didn't manage to see its famous Jewel terminal with its waterfalls, forest, cinema etc. That's because the Jewel is located outside the ordinary terminals and one needs to get through the border control to get to it. The border guard was very polite but also very firm in telling me that transfer passengers are not allowed to exit terminals if their plane leaves in less than 5 hours. Mine was leaving in 4. Luckily, this was the only bad luck in this entire undertaking.
My video:
The official LEGO video: