Tankbike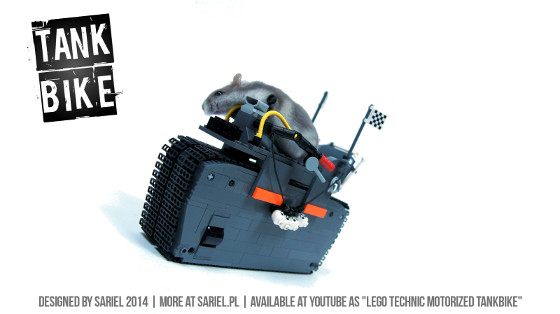 Simple vehicle inspired by tracked motorbikes. Features two separately driven tracks.
Datasheet:
Completion date: 28/06/2014
Power: electric (8878 battery)
Dimensions: length 36 studs / width 10 studs / height 22 studs
Weight: 0.48 kg
Suspension: none
Propulsion: 2 x PF M motor geared 1.5:1
Motors: 2 x PF M motor
I have come across photos of a 1938 French prototype of a fully tracked motorcycle, and it has inspired me. Half-tracked motorcycles, with tracks in back and regular wheel in front were fairly usual during WW2 era, but a fully tracked motorbike was something new. It was dubbed "tankbike" by somebody in the internet, and so I called my version.
The vehicle consisted of two PF M motors, located back-to-back, each driving one track, and the 8878 PF battery and PF IR receiver enclosed in a simple studfull body. Interestingly, I have tried to make the chassis studless at first, but a studfull version proved much easier to build.
As could be expected, the finished vehicle – very light and very narrow – performed well in a straight line, but experienced serious problems when steering. The tracks kept slipping, and the steering depended on the floor being perfectly flat. Even smallest irregularities affected how the steering worked. Using LEGO rubber tracks would probably solve the traction problems, but these tracks have limited length, much too short to fit two motors and a power source inside.
This was a very simple creation, yet it was fun to drive – and even more, to film.
Photos:
Video:
Media coverage:
8studs (Polish)