NXT Virtual Subtractor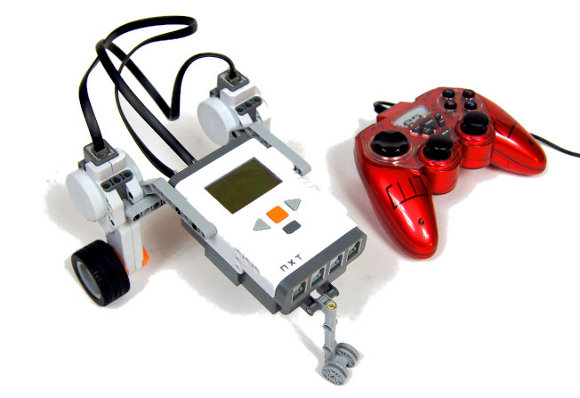 Simple software solution that allows to control two independent motors as if they were connected by a subtractor.  
Datasheet:
Completion date: 27/10/2012
Power: electric (NXT brick)
Language: ROBOTC
Bricks: 1
Motors: 2 x NXT motor
Sensors: none
I'm a big fan of controlling NXT-powered models with a control pad, especially in analog mode, with joysticks and speed control. I was looking for a way to easily control two independent propulsion motors, such as left/right motor in the tracked vehicles. Usually the control can be made easy mechanically, using a subtractor, but sometimes there is no space for it, or the propulsion system is under too much stress to use pieces such as differentials. I found a purely software solution that uses just one pad's joystick to control two independent propulsion motors just as if they were connected with a subtractor, even though the subtractor is not there. The main advantage of this solution is that it enables analog speed control in all possible directions' combinations.
Virtual subtractor program:
#include "JoystickDriver.c"

task main()
{
  bMotorReflected[motorA] = false;
  bMotorReflected[motorB] = false;
  while(true)
  {
    getJoystickSettings(joystick);
    motor[motorA] = 0;
    motor[motorB] = 0;
    if (joystick.joy1_y1 != -6)
    {
      motor[motorA] = joystick.joy1_y1 / 1.28;
      motor[motorB] = joystick.joy1_y1 / 1.28;

      if (joystick.joy1_x1 != -5)
      {
        motor[motorA] = (joystick.joy1_y1 + joystick.joy1_x1) / 2.56;
        motor[motorB] = (joystick.joy1_y1 - joystick.joy1_x1) / 2.56;
      }
    }
    else if (joystick.joy1_x1 != -5)
    {
      motor[motorA] = joystick.joy1_x1 / 1.28;
      motor[motorB] = joystick.joy1_x1 / -1.28;
    }

    nxtDisplayCenteredTextLine(0, "BATTERY: %3.1fV", nImmediateBatteryLevel / (float) 1000);
    nxtDisplayTextLine(2, "Y1: %d", joystick.joy1_y1);
    nxtDisplayTextLine(3, "X1: %d", joystick.joy1_x1);
  }
}
									
Photos:
Video: